Hello!
I am back again with lipsticks! I am obssesed with buying new ones everytime I go to Boots or Superdrug. This time I picked
Rimmel London Moisture Renew Lipstick
. It's great lipstick for just £6.49. The color I went for is 180 Vintage Pink, which is kind of hard to explain. It's very milky, mauve, pink toned color, with a hint of purple. I have been looking for similar shade for ages now and I am so happy I have came across this one. The lipstick has great lasting power and it is smooth and creamy. It is not patchy at all. Texture-wise, it's great! I think Rimmel lipsticks are the best quality out of the drugstore lipsticks. They're always creamy, and moisturizing. This in particular has such a rich texture that you can feel moisture all day, while you wearing it. It's not shimmery, thank goodness, as I can not stand shimmery lippies! No offense for those who wearing it.
Once applied the lipstick, it leaves your lips lightly glossy and I like to wear it this way sometimes, but I tend to to mattify it from time to time and it still looks great! Lipstick glides super easily without making an effort to apply it. The packaging is very glamorous and looks more expensive than it actually is. I think I will be purchasing some more colors of these lipsticks, as I am really loving it at the moment.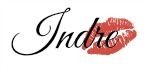 *With flash
*Without flash